If you follow me on social media you know I have been talking about my newest cookbook.
It will be coming out in the Fall of 2022! I've been busy in the kitchen testing recipes and I think you are all going to love this Veggie-Packed Fried Rice! Two years seems like a long way to go, but with the way this year has flown by, it will be here before we know it. I gave a hint to what the theme of this book is going to be on my Instagram, but in case you missed it, it is going to be quick and easy meals – think Sheet Pan Dinners, Instant Pot, Slow Cooker, Skillet and One Pot Meals, 30 minute or less meals. I think everyone could benefit from a delicious healthy meal that doesn't require hours in the kitchen.
Even I can hardly wait for 2022, so I decided to go ahead and give you this super simple meal idea while you wait! This Veggie-Packed Fried Rice is as easy as it sounds, and it contains tons of flavor and nutrition. You can chop up all of the veggies the night before and use frozen pre-riced cauliflower. With those shortcuts, this meal can be on your table in as little as 15 minutes!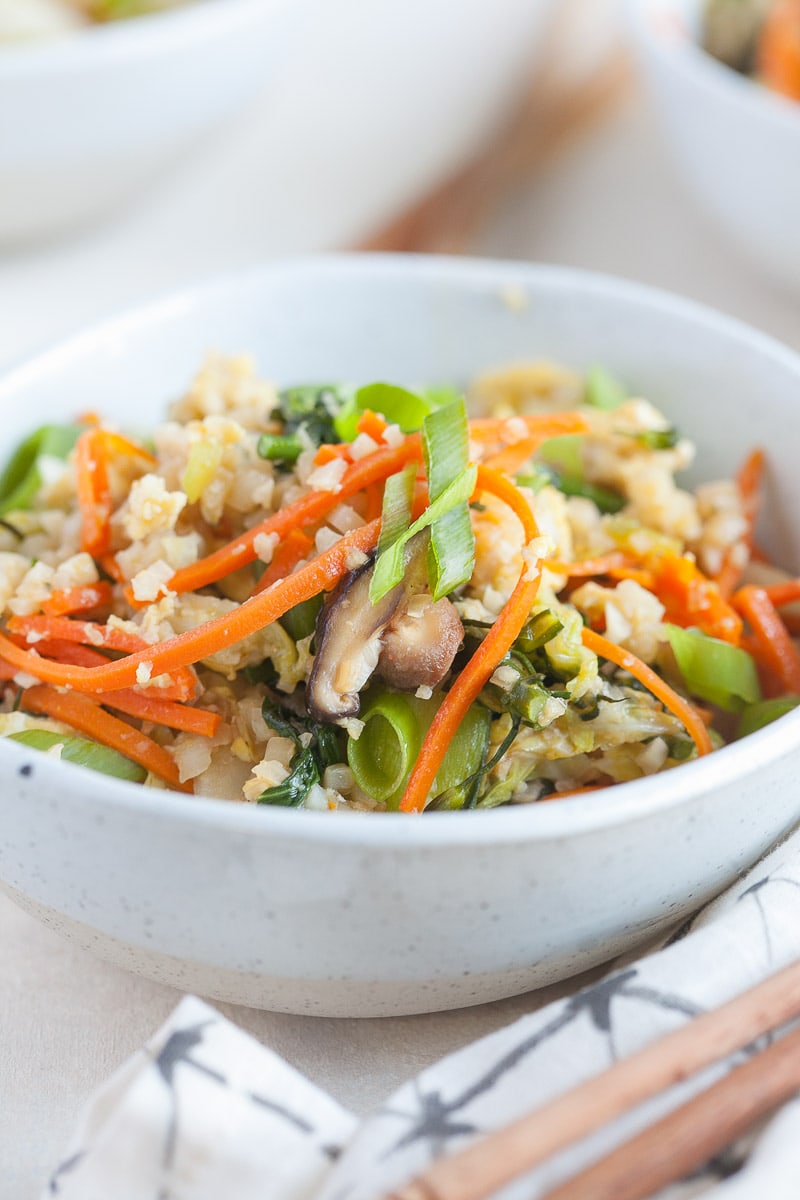 Flavor Inspired by Chinese Takeout
If you are new to my page and blog, you may not know this but, I used to have a serious love for Chinese takeout. When I went grain-free nearly 10 years ago, Sunday Chinese takeout nights were a diet staple that I had to do away with.
I think we can all agree that it was for the better. A lot of Chinese takeout contains MSG, which is a chemical flavor enhancer that is commonly added to Chinese food, wheat/gluten from soy sauce, corn starch, and processed meats. Most, if not all, takeout is also high in low-quality vegetable oils that can cause inflammation in your body.
This recipe for Vegetable Fried Rice does not contain any harmful refined oils, gluten, or chemical additives. However, it does a great job of capturing the same Chinese flavor we all grew up loving. Plus it is loaded with essential nutrients from all the fresh veggies!
Kid-Approved
I am always putting my creativity to use when it comes to adding more veggies into my kids' diets. Like many kids, they can sometimes be particular about eating them. I am happy to share that all 3 of them absolutely love this Veggie-Packed Fried Rice and even ask for seconds. I think that's a Mom win! The sesame sauce is the secret weapon – a perfect combination of salty and sweet that can make any veggie have an appealing flavor to kids.